When we hear the word Insurance, the first thing to pop up in our head is "Life." The term insurance for a common man is just something that covers the risks in their lives. What a common man fails to understand is that Insurance is much more than that.
Imagine if Mr. X is a parent of a two-year-old. Mr. X decides to take up an insurance of Rs 10 lacs for his child. Mr. X has to pay the premium for around 10 years and the child will receive the benefits when he turns 18. Mr. X has been paying the premiums regularly. But after the fifth year, due to some unfortunate incident, he passes away. Now what? What if I tell that the company will pay the remaining premium amount for you at the time of your death and the policy will continue and your child will receive the benefit at the given time.
In this post, I will be highlighting and covering one such protection plan. Edelweiss Tokio Life Insurance has recently launched their latest ULIP product –
Wealth Ultima
.
But before I continue, I would like to tell you all about something called as ULIP.
What is a ULIP plan?
Unit Linked Insurance Plans or ULIPs is a product offered by insurance companies that, unlike a pure term policy, it gives investors both insurance and investment under a single integrated plan.
Why should I invest in ULIP?
ULIP plans in India are extremely popular these days. New Age ULIP's have always been the first preference of retail investors with low risk appetite and here is why even you must invest in them.
ULIPs are considered among the best in terms of costs, returns, safety, transparency, flexibility and taxability of income.
They are cheaper than the direct plans of mutual funds.
The main advantage is the seamless and tax-efficient transfer from debt to equity, and vice versa.
ULIPs fulfill your need for both investment and protection.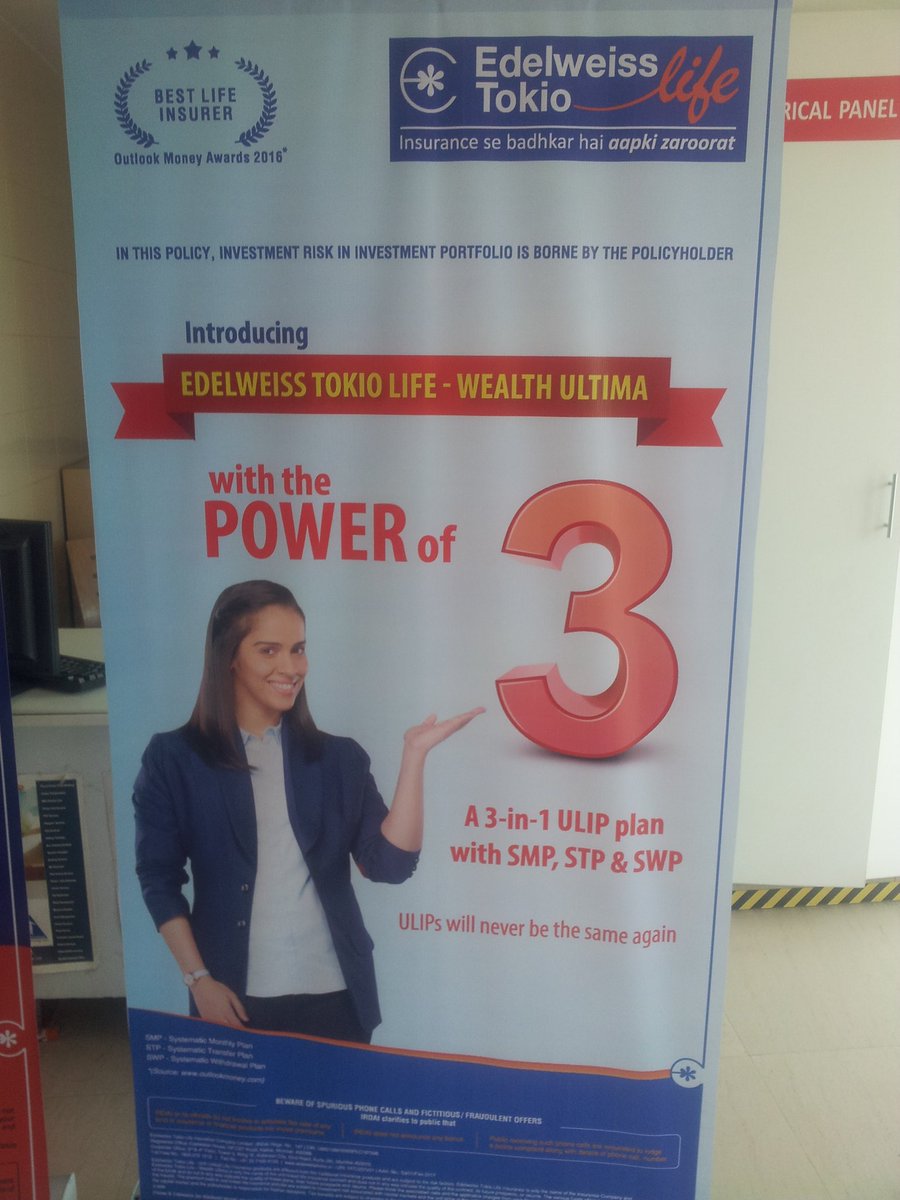 Edelweiss Tokio Life's Wealth Ultima ULIP plan
is the best ULIP plan and is one of a kind. The plan is a unique combination of Systematic Monthly Plan (SMP), which helps accumulate wealth, Systematic Transfer Plan (STP) that helps in wealth preservation and Systematic Withdrawal Plan (SWP), which helps in wealth utilization.
Edelweiss Tokio is one company that puts its customers' needs before its own profits. They are very true to their motto, Insurance se badkar hai aapki zaroorat. And thus, the
Wealth Ultima ULIP plan
is also designed keeping in mind the needs and the wants of the customers. It is a unique combination as it helps you to increase your hard earned income with the power of its three special features;
SMP (Systematic Monthly Plan): this helps in wealth accumulation and safeguards from erratic market movements and you can pay monthly.
STP (Systematic Transfer Plan): this helps in wealth preservation and helps the holder to transfer money from one place to another as per his wishes
SWP (Systematic Withdrawal Plan): this works as a second income and helps in wealth utilization.
Edelweiss Tokio Life focuses on improving the lifestyle of their customers by understanding their needs. The Little Champ option offered by
Wealth Ultima
will help you take care of your child's financial needs for future. For e.g., during this policy tenure, if you meet with an untimely demise, the company i.e. your insurer will invest on your behalf and all your future premiums will be waived off.
Also, if you are a loyal policyholder you will receive loyalty additions. This bonus is paid as a form of reward for paying your premiums regularly till the end of the policy tenure. Guaranteed additions are also paid as a form of reward for staying invested till the end. Booster additions also ensure effective growth for your fund value. The systematic withdrawal plan helps you to cover your after retirement monthly income plans.
Why I like this plan?
Wealth Ultima offers me an investment option along with insurance option. It is designed to suit my needs and I won't be forced to take something I am not comfortable with. Moreover, the policy offers tax efficient features. And the most important feature of all, I don't need to worry about my future or my child's future after I pass away as I know this policy will take care of everything.
Do subscribe to my blog to stay updated with some amazing content.
Also, support me and show some love on