Holi is just around the corner. People have already started preparing for the festival of colors. It marks the beginning of the spring season.
This festival creates feelings of love and friendship.
Holi is not only the festival of colors but it also is the festival of togetherness and love. The different colors represent the different cultures. Just after few days you will for sure hear the word, "Holi Hai!'
But the real essence of Holi is lost in today's fast moving world.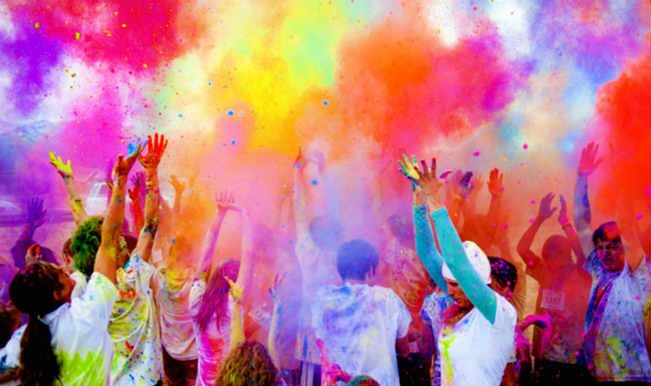 A little background on this festival:-
Like many other festivals in India, Holi also signifies a victory of good over evil. As per ancient mythology, there is a legend of King Hiranyakashipu with who Holi is associated. The festival of Holi is connected with the story of Prahlad who was a true devotee of Lord Vishnu. His father was Hiranyakashipu who didn't like Lord Vishnu. He tried to kill Prahlad many a time but in vain. Having failed to kill him he ordered his sister Holika to burn him to death. She took the boy in her arms. She sat with him on a huge burning fire. The fire burnt Holika and spared Prahlad. In the memory of this great event, effigies of Holika are made and burn by people. In Brij Mandal, the Holi is connected with the activities of Lord Krishna.
Previously, we used to play Holi with so many colors and have such a lot of fun with our friends, family and near and dear ones. But it is all lost now.
The kids nowadays are so busy with the modern day technology. Some teenagers only play Holi so that they can click a selfie and post it online. They have colors on their face and a pout and they post these pictures with the caption: "Holi with my peeps." Girls prefer to stay away from Holi colors as they fear it will affect their skin and cause breakouts.
Working people choose to sleep or watch a movie or spend their holiday lazing on the couch. There are hardly a couple of kids playing Holi on the roads. Most of them are busy on their phones and laptops.
Here are some of the most common Holi memories from our childhood that we all share:-
1. Holi was not just about one day. The Holi celebrations used to begin one-two weeks prior to the big day. The whole locality lived under the delightful terror of being attacked by the notorious kids and water balloons.
2. The night before the big day or in other words also known as Holika Dahan or choti Holi was the day of preparations.
3. We all had water balloon wars with the rival colonies and localities.
4. We made sure that on the Holi day, no one would move dry or colorless. We made it a point to pour water or throw color on everyone, even the strangers.
5. Some children's faces were covered with such dark colors that it was very different to know who was who.
6. Sweets and snacks is a must during Holi. It is the source of our energy.
7. My chawl aunties would fill a big tank with lemon juice or some other home made cold-drink so that the kids were always energized.
8. Some old colony uncles were high on bhang. And the kids were told it was a medicine.
9. It's useless having a bath and cleaning up before evening. Because there also that one person who is ever ready to spray colored water on you.
10. Music was a must. Someone would always play some Bollywood songs on the radio and we kids would dance our hearts out.
The times were different when we were young.
Our pichkaris, the countless variety of colors, water balloons everything was set for the next day. It is a must to get up very early the next morning or else you will regret it.
There was this one year when I woke up late only to find my face filled with color.
We would all gather and have a balloon fight with the kids from the locality across the street. It was like a war. Water balloon pouring from both sides, the water shooting from our pichkari's and the color attack on the uncles and aunties from the other locality.
Today we all have forgotten how to celebrate festivals. Time has gotten us very far. Now it's all about the money money money.In our busy lives, the true meaning of celebrating festivals is getting lost. Hence, this Holi, let's put aside all our gadgets and worklife things and enjoy the colors with our loved ones to the fullest.
Liked this post? Share your feedback in the comments section. Do subscribe to my blog to stay updated with some amazing content. Also, support me and show some love on
Facebook
,
Instagram
,
Twitter
, and
Youtube
.